GAMEPLAN GETS 12000 USERS WITHIN 6 WEEKS OF LAUNCH
0
07 Jul 17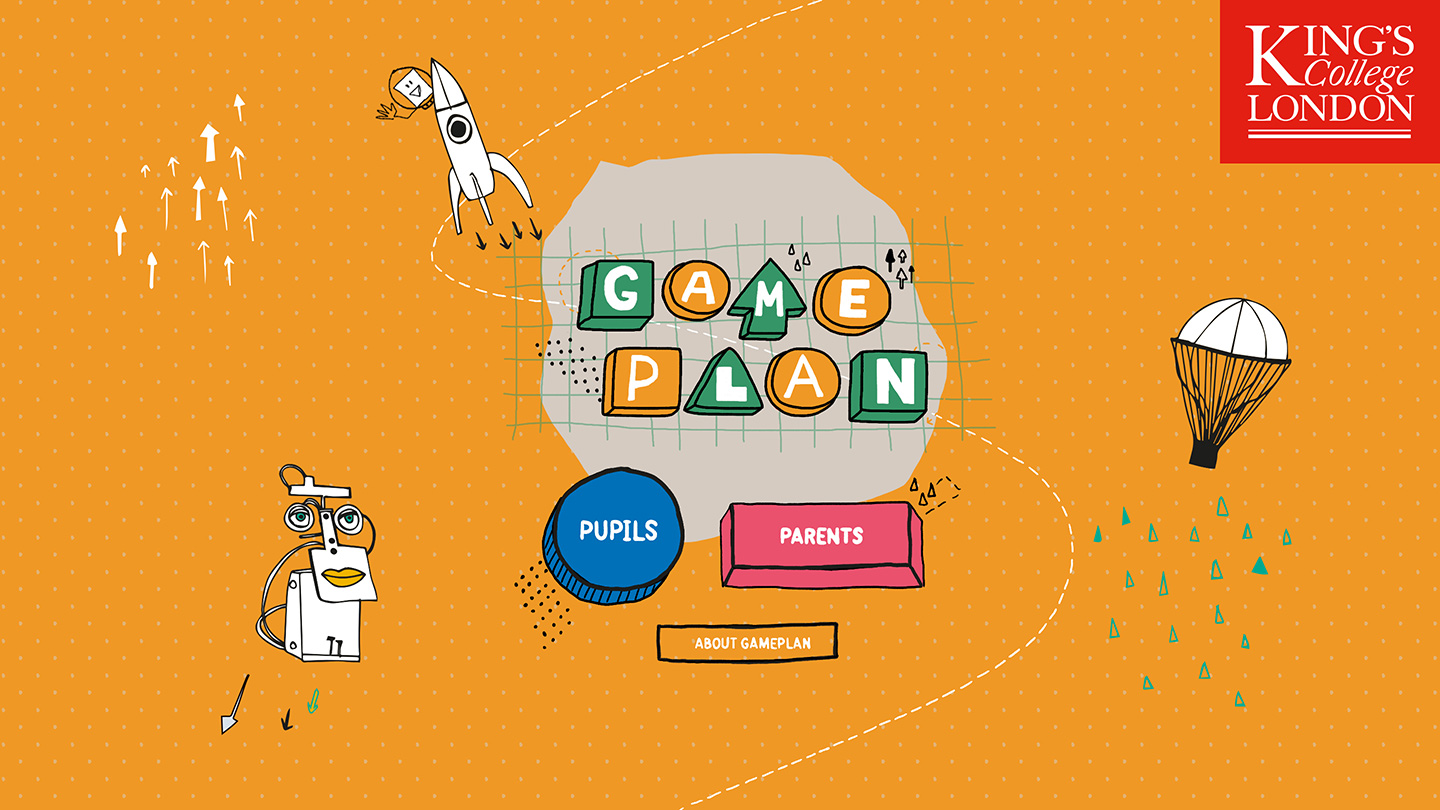 To support it's King's Scholars outreach programme, Splinter partnered with King's College London to develop Gameplan, an online source of information for disadvantaged Key Stage 3 children (11-14 year olds). The site features an engaging suite of games introducing the skills that will be needed to successfully complete a course at university. 
– Students can create an account and compete to get the best score in the 10 games available.
– Games focus on preparing an application, the study, social and financial skills needed whilst at university, and the potential careers available after graduation.
– The site also features a parent's section, enabling parents to understand how they can best support their children.
– The site is available for anybody to use, although there are additional features available to children enrolled on the King's Scholars scheme.
– Splinter carried out workshops with schools in London and Liverpool, allowing pupils to provide the inspiration for both the content and technical format.

Gamplan has been a great success – but don't just take our word for it. This is what Joe Collin of King's had to say:
What did you like about working with Splinter?
Working with Splinter was an absolute pleasure. From the moment we asked them to develop our website, they were punctual, receptive, patient, committed, organised and more. 
The quality of the product is fantastic. The artwork they produced for us was vibrant and original, the games developed are intensely playable, intuitive and educational, while the site as a whole is elegantly designed and easy to use. 
The personal approach Splinter offer is superb. Any question or query we had was answered quickly, while the team did everything to ensure that we were happy with the end result. We never felt like they were just selling us an 'off the shelf' website. At every stage we were consulted and advised in an approach that is anything but corporate. 
I would wholeheartedly recommend Splinter. A delight to work with. 
How has the site been used and received since launch?
Gameplan has been brilliantly received by teachers, parents and pupils since launch. Amassing 12,000 hits in the first 6 weeks, the site has already been used across schools in the UK.  
Particular praise has been reserved for the visual identity of the site. The quality of the illustration is top-notch, while users have also commented on how playable the games are. Games such as Setting Sail and University World are proving so popular (addictive even!), yet teachers too are very impressed by the incorporation of educational content into games. 
Gameplan is providing so many underrepresented pupils across the country with a free, innovative and exciting way to engage with highly selective universities.